"I recently purchased a site license for EasyCharts and wanted you to know this is the most comprehensive charting software I have seen. ...nothing can match the speed, flexibility and ease of use.... the learning curve is very short."

Kerry Shireman Manager - Technical Support SBC Communications
Add charts and graphs to your web pages or java and web applications with our EasyCharts charting library.
EasyCharts is a 100% java based chart library that enables you to add great-looking charts in your java applications, web pages, and server based web applications with very little coding effort.
EasyCharts supports a wide range of charts and chart combinations and is renowned by java developers around the world for its great feature-set, flexibility, and ease of use.
Bar and Column Charts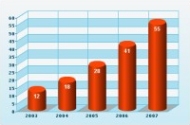 Create bar charts with multiple data series, configurations, styles and colors. Bars can be placed vertically or horizontally, side-by-side, stacked, or behind each other.
Line and Area Charts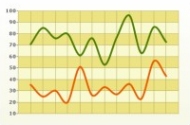 Create line and area charts with different line styles, stacked data series, mouse-over labels, and sample point markers. The charts can be zoomed by dragging the mouse across the chart data.
Combination Charts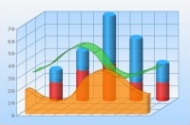 Combine different bar, line, and area charts into new great looking combination charts. There is no limit to the number of charts that can be stacked on top of each other.
Pie Charts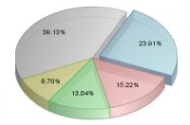 Create 2D or 3D pie charts with multiple data series, detached pies, mouse-over labels, and drilldown functionallity.
Gauge and Dial Charts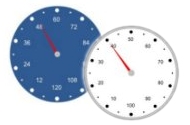 Gauge and dial charts lets you create speedometer-style charts for network utilization and other applications.