Traffic Alarms
You can define an alarm on any traffic entity on the network and Network Probe will alert you if traffic events of interest occur.
For any traffic entity such as hosts, conversations, protocols, and network cards, you can define alarms for the traffic amount, the number of packets, the number of protocols, or any other statistics counter gathered for that particular traffic entity type.
Alarms can be absolute and trigger when they reach a certain amount, or delta alarms, triggering when they reach a level measured per time interval, such as the throughput.
[more about triggered alarms...]

Triggered alarms
Defining Alarms
An alarm is defined by selecting a protocol, host, conversation, or network card from the tables and simply doing a right-click and choosing 'Add alarm'. You can then configure the alarm type, trigger values, and the assigned severity of the alarm [more about defining alarms...]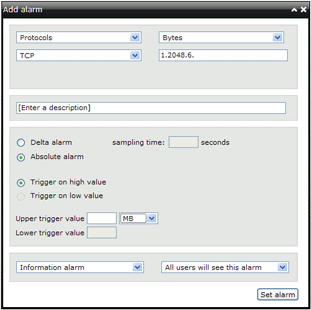 Defining an alarm
Alarm Trigger Actions
You can also set off events when an alarm is triggered. You can define Network Probe to send you an email with detailed alarm data to let you know something happened then and there, or you can configure it to run a script to take action immediately if the alarm is triggered [more about alarm actions...]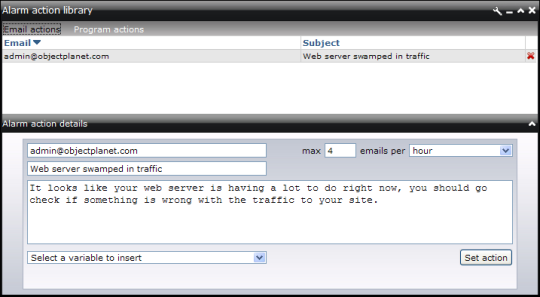 Send emails when alarms trigger