CONDUCT ONLINE SURVEYS
Design, publish, and manage all your online surveys easily and effectively using one of the markets most powerful survey software.
Construct and publish your surveys in minutes
100% web based, you only need your web browser
Increase response rates using automatic email reminders
Installed and hosted solutions available
Please note that the login information is sent to your email address.
Did you type in your correct email address?

Publish your internet surveys
The Opinio survey software lets you publish your internet surveys in many ways so you can effectively reach your survey audience.
When you have finished constructing your internet survey, you can either simply publish the link on your web page, you can send the link to the survey by email to your respondents, or you can even print the surveys and pass them around if you prefer this.
Give direct access to a survey url
http://us.opinio.net/s?s=0123
Email survey invitations
However, if you need more control over who responds to your internet survey and need the possibility to remind your survey respondents if they have not replied yet, you can use Opinio's powerful feature for survey email invitations.
When creating your invitation, you can specify an email message that will be sent to each respondent which includes a unique individualized link to the survey. When the respondent clicks the link and answers the survey, this is automatically recorded in Opinio.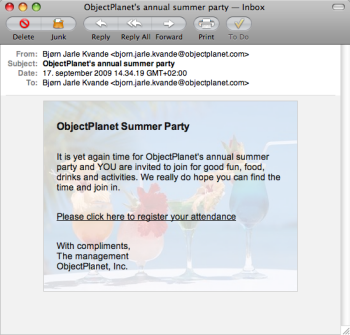 Both text and html invitation emails are supported
You can also configure up to 5 reminder dates so reminder emails are sent to those respondents who have not yet replied to your survey within those dates. The email is of course editable.
You can also save your email invitations so they can be reused at later times, as well as import existing email lists from other external systems.
[Read more about invitations here...]
[Read more about Opinio...]
Include demographic data
If you need better control and more options when you analyze the data after your audience has answered, you can include demographic data for each invitee such as age, gender, location etc. You can then later generate reports filtered on that demographic data.
[Read more about the invitation format here...]